Decorated big mountain skier and BASE jumper Shane McConkey was killed earlier today in a ski-BASE accident in the Italian Dolomites.
Shane McConkey
Hometown: Olympic Valley, Cali.
Family: Wife, Sherry; Daughter, Ayla
Nickname: Cliff Huckstable, Pain McShlonkey
Sponsors: Red Bull, K2, Sessions, Nordica, Marker, Oakley, Squaw Valley USA
Accolades:
1996, 1998: IFSA World Tour of Freeskiing, World Champ
1999: Winter X Games Skier X, 2nd
2001: Skiing Mag Top 25 Skiers in N.A., 1st
2002, 2005, 2006: Powder Mag Reader's Poll Awards, 1st
2005: Laureus World Sport Award, Nominee
Film Parts:
1997-2008: Matchstick Productions
'95, '99, '00, '02: Scott Gaffney Pictures
1999: Teton Gravity Research
2005: Warren Miller Films
A member of the Red Bull Air Force and pioneer of the ski-BASE-ing phenomenon, McConkey experienced problems in the air after launching off a cliff with the expectation of deploying his parachute canopy and then gliding down to the ground—as he had done successfully some 700-plus times before.
"He did a double backflip off the jump and he has these releasable bindings so they come off in the air and then he flies off in his wing suit," filmmaker Scott Gaffney, a longtime close friend of McConkey's, told ESPN Action Sports in an interview this afternoon via phone.
"But one ski did not come off. And when that happens the drag on the skis causes you to flip over, so the skis go over your head. So he was struggling with the one ski. Then he also got into a bad spin. So he may have never even pulled his pilot chute. And that's coming from JT Holmes, who Shane was with in Italy and who reviewed the footage of the accident. So the combination of the ski, the spin and the pilot chute, apparently. Because you can't throw the pilot chute like that; if you throw it while you're upside down and it wraps around the ski, you're done."
McConkey was filming with Matchstick Productions and Red Bull at the time, according to Gaffney, who said McConkey apparently died on impact with snow on the ground below the cliff. Gaffney was not clear about the size of the cliff. "But it had to be a sizable cliff, at least 400 feet, for him to be planning on flying his wing suit away from it," Gaffney said.
McConkey, 39, of Olympic Valley, Calif., is survived by his wife, Sherry, and their 3½-year-old daughter, Ayla.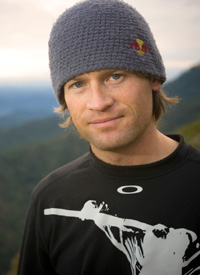 Graeme Murray/Red Bull Photofiles
This afternoon Gaffney was at home in Squaw Valley, Calif., with his brother, Robb, also a close friend of McConkey's, reeling from the news. "With what Shane does," said Scott, "it's a call you always picture getting at some point, but you realistically don't ever expect it to happen."
Added Robb Gaffney, "Shane's been a part of our lives for quite a while now. I'm just sitting at Scott's house processing the whole thing. The texts and calls are coming in, and you can really even feel it in the air in Squaw right now. I'm thinking about Sherry and his little girl. But in this area people have always loved Shane, so Sherry and Ayla, they're going to have an immense amount of support around them. That's one thing for sure; that's Shane's legacy."
Also See: Retallack Rip-Fest, a 2008 photo gallery featuring McConkey and friends.